David Haugh specialises in bespoke kitchen design and installation in Ashford, Kent and the surrounding area. With 30+ years of experience in designing luxury bespoke kitchens, we have accumulated a wealth of knowledge to bring to all types of residential properties in Ashford.
We have made it our mission to create beautiful kitchens that enhance, revive or transform our client's homes. With our fully managed service, we take care of all aspects of the design and build, just as we would in our own homes!
At David Haugh, we promise to take you on a kitchen redesign journey like no other. With excellence at the heart of everything we do, we focus on providing the best possible customer experience throughout the whole process.
Looking for a kitchen that has the wow factor? Come to David Haugh and let us make your dream kitchen come true.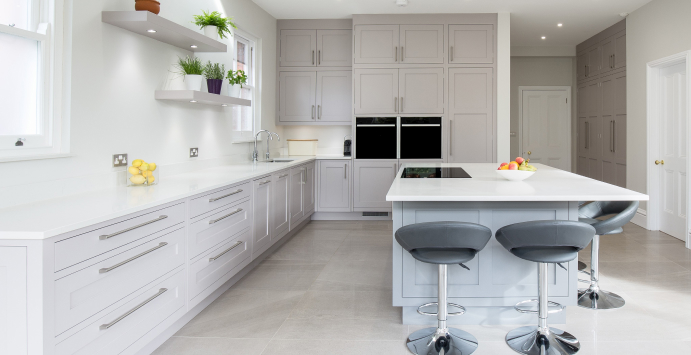 Our Kitchen Design Service
We know that home improvement projects can be daunting, especially when it involves choosing a new kitchen for you and your family. That's why you can rely on our expertise and knowledge to design, build and install an exceptional kitchen that is tailored exactly to your requirements.
At David Haugh, our kitchen design process starts with gaining an in-depth understanding of you, your home and your lifestyle. Tell us your ideas and let's work together in partnership to achieve the kitchen of your wildest dreams.
Why not pop into our showroom and workshop to find out more about how we work, the kind of kitchen we can create for your home, and how to get the process started?
Once you're happy to proceed, we will arrange for a home visit where we will carry out a survey of the space and layout, and can talk in more detail about your design preferences. Next, we will draw up a 3D colour perspective drawing, with costings, which we can amend and tweak until you are completely happy with everything. Then we can get to work.
Why Choose David Haugh?
Whether you favour a traditional painted kitchen or a sleek, smart contemporary design for your home, we can help you realise your vision.
At David Haugh,
We put you, the client, at the heart of the design process
Our luxury bespoke kitchens are designed with your personality and lifestyle in mind
We care deeply about the whole kitchen designs journey, all the way to deliver a stunning end result
Our kitchens are unique, and no two are ever the same
We pay attention to detail to ensure your kitchen stands out from the crowd, both in terms of functionality and style
Our knowledge and experience of the art and craft of cabinet making and kitchen design is second to none
We use the finest materials, the best appliance brands and the top tradesmen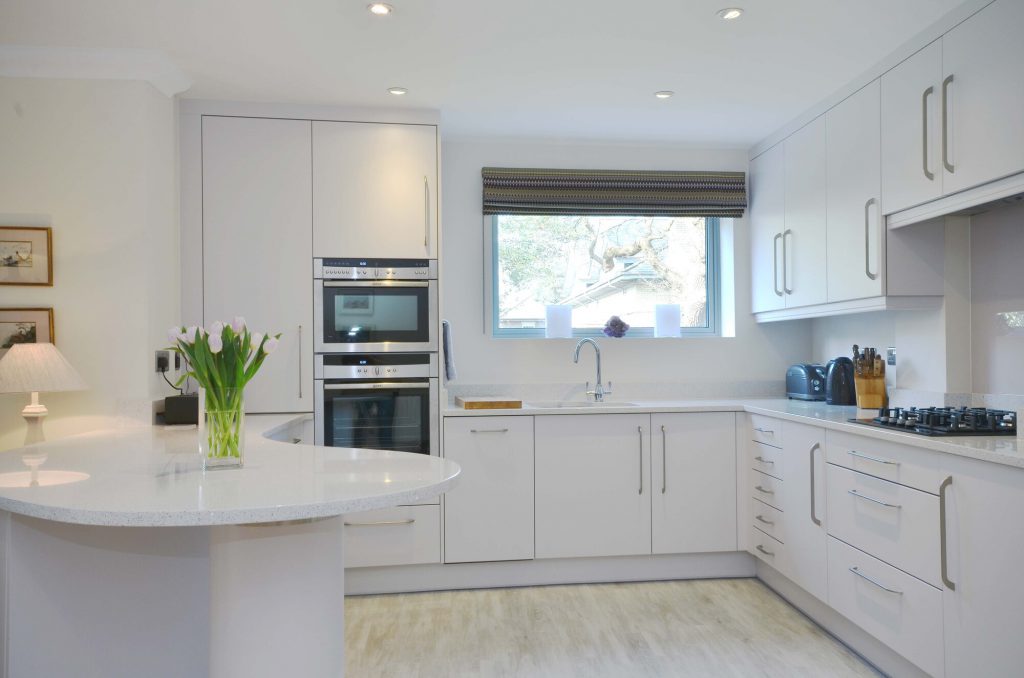 About Us
The team at David Haugh are known for their love of working with wood and making beautiful furniture. Exceptional kitchens don't come about by accident – they are the result of meticulous craftsmanship fuelled by a passion to produce nothing but the best.
At our large workshop in Tunbridge Wells, you'll find us crafting every little detail of our bespoke kitchens including the appliances we choose to go into them. We put our heart and soul into every kitchen we create to make your interior dreams come true.
If you are looking for an exceptional kitchen designer who truly cares about creating beautiful bespoke kitchens for beautiful homes, David Haugh should be your first port of call.
Google Reviews
Following a recommendation from a friend we asked David Haugh Kitchens to inspire us with a new design for our kitchen and utility room. Ayesha's design has resulted in a beautiful finished space that suits us perfectly.David, Sue and Ayesha always had time to help us with decision making ,with an understanding of the house as well as our needs.The kitchen fitter, Andre ,was skilled and professional and everything was finished to a high standard.I would highly recommend David Haugh Kitchens.
David Haugh kitchens are a local kitchen designer with a great reputation. I heard about them originally through an ex-neighbour who owned an oast house. They had designed a beautiful bespoke circular kitchen and my neighbour was thrilled. David and Sue, the owners helped me through the process of creating my own bespoke kitchen. Our space was challenging because it was a new build with sloping ceilings, time delays and a long wish list. The designers were extremely flexible and were able to change the layout to accommodate changes to the new build. David Haugh came up with innovative solutions and I am so happy with the result. I now feel I have a kitchen designed specifically to my own needs and wishes. It was great to have someone able to advise on the choice of appliances, to store them during building delays and to liaise with third party companies. Their fitters and painters were also of a very high quality Throughout the process I found them to be extremely helpful and it was always beneficial to be able to go in and to talk directly to the team involved in the project. I would highly recommend this company.
Sue and David were meticulous at every stage of the design process, delivery and installation of our kitchen - the end product is truly stunning. Their painters and fitters were very experienced and there was excellent communication between them and all our trades, so the utility connections were seamless. This is a local firm delivering great design, quality products and excellent customer care. Highly recommended.
Neil Pattemore
20/08/2023
We are so glad to have chosen David Haugh Kitchens. The ability to work with such a knowledgable, approachable and professional team (David, Sue and Ayesha), along with the beautiful kitchen that was so diligently and carefully installed by the wonderful Chris (the kitchen fitter) made the whole process faultless. When a couple of issues (outside of their control) cropped up, they were most supportive and quickly provided resolutions. A 5 star review is fully deserved!
"After 20 years of use from our old Stoneham kitchen we took the plunge with David and Sue Haugh and their excellent designer Ayesha, to supply and fit another superb Stoneham Kitchen albeit we used our own pre-fitters, electrician and painter. Ayesha was for sure, patient with our brief and minor changes but the end result was stunning, and we'd not hesitate recommending them to anyone looking for a reliable and professional company".
We're delighted with our new kitchen and utility room. Importantly, the whole team at David Haugh were lovely to work with and the attention to detail, dedication and skill was consistently high. We'd definitely recommend them.
Christine Thomson
17/07/2023
David Haugh Kitchens is a local, independent business working to very high standards, catering for and listening to people's individual needs. Its small but immaculate showrooms with impressive displays of both bespoke and established Stoneham kitchen ranges were a delight to visit. David and Ayesha (kitchen designer) produced a smart design to completely refurbish my small, decaying kitchen still containing most of its 1990s original fittings and needing considerable imagination and TLC. An excellent fitter, Matt, also acted as project manager, to my intense relief, and all work was staged and coordinated with care and with consideration for my personal situation. Delays, inevitable considering the amount of work needed, and the occasional small problems, were managed well and solutions quickly found by Sue and others. The whole team – small but perfectly formed! – was professional, knowledgeable and helpful. The finished kitchen is everything I hoped for. Recommended! Christine Thomson
It was a pleasure to work with David, Sue and their team on the transformation of our kitchen and hallway. David's design was really innovative and totally fulfilled our brief. The craftsmen were top notch and went above and beyond to keep this old grump happy! It is rare to have a great designer backed up by such a good administrator. Best wishes for the future. Frank and Chrissie Webster Stalisfield Green.
The kitchen designer produced a contemporary and stylish kitchen which met all our requirements and provided a perfect new layout using Stoneham products and Neff appliances. We were kept informed regularly of updates and we were given thorough and accurate costings, and any queries we had were dealt with in an efficient and timely manner. The fitter was meticulous, a perfectionist, working to an extremely high standard throughout. He gave us complete confidence in the standard of the workmanship and the end results confirm this. We are thrilled with our new kitchen and would highly recommend David Haugh Kitchens. Great job, thank you! Christine and Alan Willis
Extremely pleased with our kitchen and the service. David and Sue put a great deal of effort into the design stage. They were the first kitchen company that actually listened to our objectives and requirements and the only ones to incorporate building work into their design. They showed a lot of patience with multiple designs and options. Then, everything was showed to us before we bought it including accompanying us to the Stoneham showroom. Our kitchen included a bespoke pantry based on different bits that we liked. Even when we encountered problems, there was no trouble - they were always positive and able to find a solution. This included helping us with work that wasn't technically part of the kitchen - David designed and built some bifold doors to fit an unusual door space. Would highly recommend
Get in Touch
David Haugh is a team of experienced kitchen designers in Ashford and the surrounding towns and villages. If you need any inspiration and guidance to design and install a luxury bespoke kitchen in your home, please get in touch with our talented team today.
For an initial friendly chat, give us a call on 01892 750310 or alternatively send your enquiry by completing the form below.