A bespoke kitchen for Emma and Jamie
We were thrilled when our daughter Emma and her partner Jamie asked us to design a beautiful bespoke kitchen for their home in Sevenoaks. We began by discussing design preferences. As we do with every client, we needed to understand exactly what it was Emma and Jamie wanted from their kitchen and how it would complement their home. With every kitchen we are commissioned to design and build we want to ensure we can deliver a kitchen that lives up to expectations aesthetically, and also functions perfectly too.
Once we had honed down exactly what Emma and Jamie wanted from their kitchen, both in looks and functionality, we settled on a bespoke painted kitchen style to incorporate elegant curved cabinetry and oak worktops.
All of our bespoke painted kitchens are made in our own workshop in Tunbridge Wells. Take a look at our process in pictures and see how Emma and Jamie's kitchen takes shape.
This is a David Haugh bespoke kitchen being prepared for hand painting on site. Notice we have used a similar under coat primer colour. This enables us to achieve the best results when we finally hand paint the kitchen on site.
We are sure Emma and Jamie will love the elegance of the tall curved cupboard being made. You can see below the processes of fitting two curved doors onto the curved carcass. We fitted one door at a time for accuracy.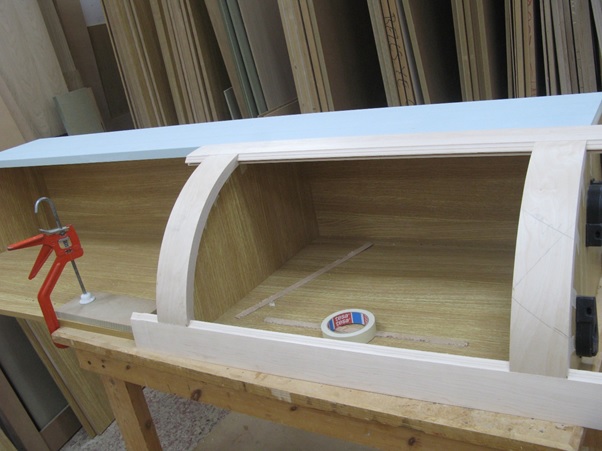 Here you can see the tongue & groove panelling shown on the side of the tall curved cupboard.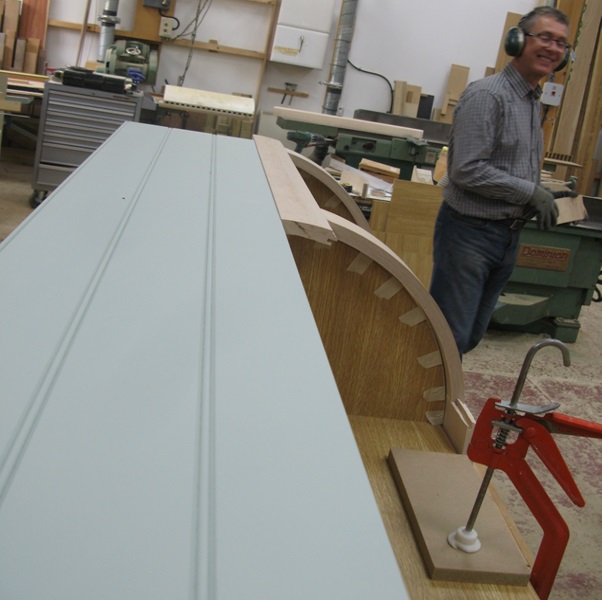 Here's an oak worktop on the planer, ready for sanding, which will be fitted onto a dresser.
And here is more of the kitchen taking shape. We'll let you see the finished article when we've meticulously finished our work and installed our latest David Haugh kitchen in its rightful place.
If you would like to chat with us about a beautifully crafted bespoke kitchen for your home, give us a call on 01892 750310. Or why not come and see some examples of our work at our showroom. We are located just 3 miles south of Tunbridge Wells town centre. We would love to meet you and discuss your kitchen project ideas. See our contacts page for directions and opening hours.