Emma & Jamie's bespoke kitchen
We are celebrating the completion of Emma and Jamie's kitchen. They are delighted with the result and so are we. If you recall from our previous blog post we were absolutely thrilled when our daughter, Emma, and her partner Jamie approached us earlier this year to design a beautiful bespoke kitchen for their home in Sevenoaks.
Well, after weeks of careful design and handcrafting, the kitchen is complete, built and fitted to perfection. We treated Emma and Jamie just as we would any other client and gave everything our absolute best as usual. We live, breathe and sleep kitchens and we confess we were really excited to be sharing the love and making a kitchen for someone in the family.
We incorporated all of Emma and Jamie's ideas into the design and we have to say we couldn't agree more highly with their choices. They opted to have their cabinetry hand-painted in a beautiful warm sage green and picked ceramic cream tiles to go behind the range cooker and below the cupboards on the walls. They hoped for a traditional, warm kitchen and the result is exactly true to form as you can see.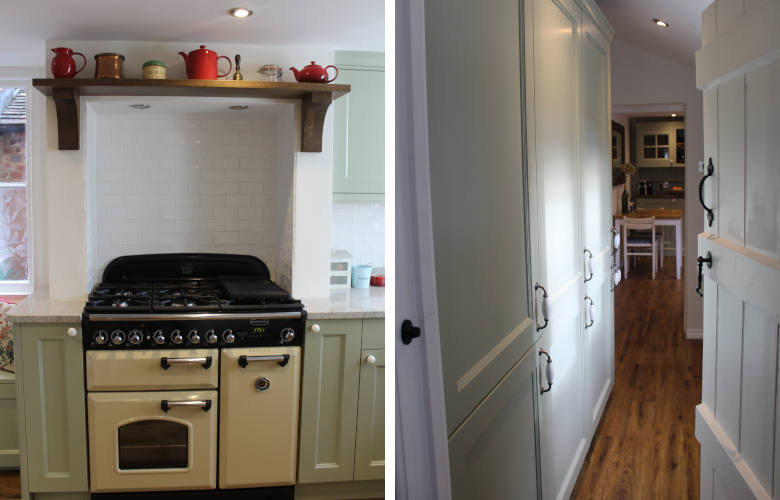 Perhaps our proudest moment was in the design and build of the standalone dresser, which we are sure you will agree is an absolute showstopping feature in this kitchen. We created a special oak 'X' box in the middle of the dresser to store wine, which we think is pretty neat. Sometimes the small details matter as much as the big ones.
This beautiful dresser gives the kitchen a completely unique and refined feel and proves that modern functionality can be as much a part of traditional kitchen design as a contemporary one.
We are also smitten by the tall curved storage cupboards we made to create a neat utility room arrangement off of the main kitchen space. That is the beauty of bespoke – everything fits perfectly like it was meant to be. We can't wait for our next invitation to see Emma and Jamie. This is definitely a kitchen we are looking forward to spending time in. It's not often we regularly get to admire our own handy work.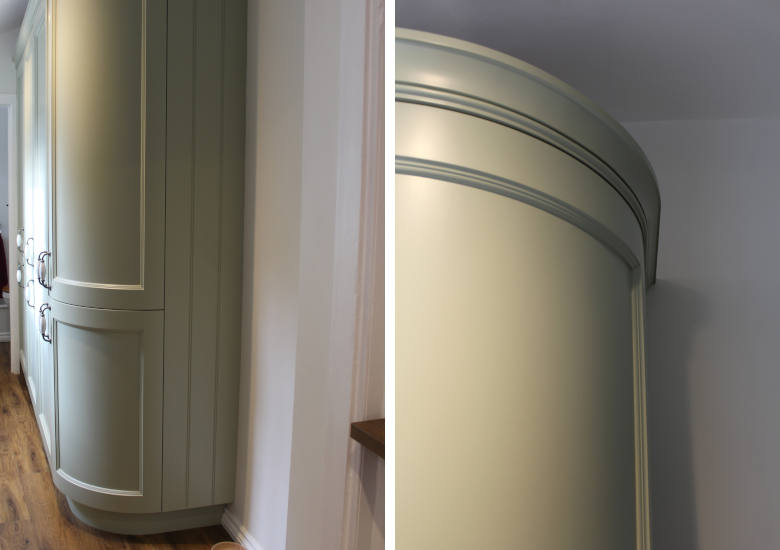 If you are considering a new kitchen and would like to know more about our kitchen design process, don't hesitate to call us. We would absolutely love to make your kitchen dreams a reality.
All of our kitchens are handmade in our own workshop. Feel free to pop by and see us at our showroom and see us at work in the workshop close to Tunbridge Wells.